Food
Food is very important in Minecraft! If you don't eat, you will starve to death, and that's not good.
How to eat
Select a food item in the toolbar, then hold down the right button to eat. Om nom nom nom nom!
What to eat
There are lots of types of food. The first you will find is most likely apples, then you will grow wheat and make bread. Since you will probably want a chicken farm for experience and feathers, chicken will most likely be your staple diet.
Types of food
Here are some of the most common types of food in Minecraft. Nutritional information is below.
Nutritional Values
The following table shows how many food points are restored by the most common foods. There is another factor, called saturation, that has to do with how filling various foods are, I. how long it is before you start to feel hungry again. Golden apples and golden carrots are the most filling foods, followed by steak and pork.
There are more complicated considerations that we won't go into here. For information on that, and on more unusual foods, check out the Wiki.
Meat

Cows, pigs and chickens all drop meat when killed. Sheep don't provide meat. All meat is more nutritious when cooked. Chicken also has a 30% chance of poisoning you when you eat it raw!
Hunting or Farming?
Don't go killing every animal you see for food, however. You will be better off in the long run getting your food from farming. Just do enough slaughtering to keep you fed until you get that set up!
Cooking meat
Meat can be cooked in a furnace, making it twice as nutritious and removing the risk of poisoning from raw chicken.
Wheat
Wheat is used to make bread, and is necessary for farming animals. Although it can be found in chests in dungeons, you will mostly need to farm it yourself.
Baking bread
You don't actually need an oven to make bread; just wheat and a crafting table.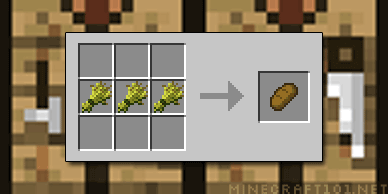 Cookies
Cookies are made with wheat and cocoa beans.
Cake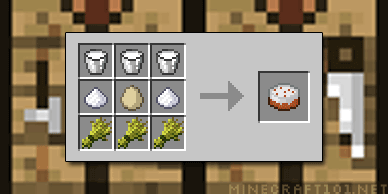 Cake is a block that must be placed; after that you can eat it one slice at a time (there are 6 slices).
Mushrooms
Mushrooms can be used to make mushroom stew, which is extremely nutritious and a great choice for vegetarians. Mushrooms are easily found in swamps, the Nether, or mushroom biomes, and can be cultivated in several ways. The one disadvantage of mushroom stew is portability; prepared stew doesn't stack, so each bowl of stew requires an inventory slot. The ingredients stack, however, so you can just carry around a supply of mushrooms and bowls and make stew when you need it.
To make the stew, you need red mushrooms, brown mushrooms and wooden bowls.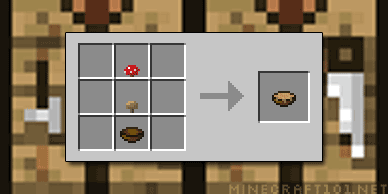 This recipe is unusual in that it doesn't matter how you arrange the ingredients, so mushroom stew can be made without a crafting table: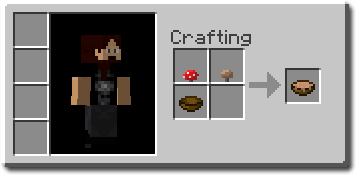 After eating the stew, you will get the empty bowl back for re-use.
Fruit
Melons
Melons are easily farmed. Each slice only gives you one food point, which makes them useful for topping off your hunger bar rather than filling up if you're really hungry.
Apples
Red apples grow on trees, specifically oak trees (which should maybe be called apple trees instead!). Each time a leaf block from an oak tree is destroyed, there is a 1/200 chance of producing a red apple. Since you'll be cutting down trees for wood anyway, apples are a useful byproduct!
Golden apples
Confusingly, there are two types of golden apples! Normal golden apples have a green tooltip label, whereas enchanted apples have a purple label, and an animated glow effect as shown.
Normal golden apples are crafted from a red apple plus 8 gold nuggets. In addition to restoring two hunger points, golden apples increase your rate of health regeneration for 4 seconds! This makes them the best food choice if you need a snack whilst fighting, but better results can be had with potions.
Enchanted golden apples are crafted from a red apple plus 8 gold blocks. An enchanted golden apple will restore two hunger points, increase your health regeneration for a whopping 30s and grant both fire resistance and protection from other damage for 5m. This amazingly powerful food is also amazingly expensive!
Vegetables
Carrots and potatoes are found in villages, or dropped by zombies. They can be planted in irrigated farmland and grown.
Carrots can be turned into golden carrots by crafting them with gold nuggets, although this is more useful for making potions than food.
Potatoes can be baked in a furnace to make them more nutritious. A small percentage of potatoes are poisonous and best avoided.
Cakes and Pies
Pumpkin pie is made from sugar, eggs and pumpkins.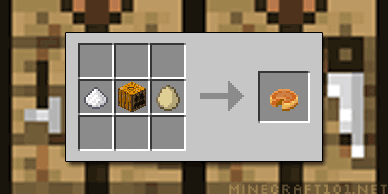 Fish
If you have string, you can make a fishing rod and go fishing.
Salmon and plain old Fish (sometimes called Cod) are good eating if you cook them first. Puffer fish are poisonous and should not be eaten.
Cooking
The following foods are improved by cooking. To cook any of them, use a furnace.
Meat
Pork, chicken, steak.
Fish
Fish and Salmon.
Vegetarian options
Potatoes.