Tools
A quick guide to the tools you will use in Minecraft.
Tools with Handles
These tools are all made with a handle of sticks, and a head of either wood planks , cobblestone , iron , diamond or gold.
Better materials work faster and last longer (with the exception of Gold, which is the fastest material but also the softest.) There is rarely a good reason to make a gold tool! Iron and diamond are the best for most purposes.
Comparison of Materials

| Material | Durability | Speed |
| --- | --- | --- |
| Wood | 60 uses | Slowest |
| Stone | 132 uses | Slow |
| Iron | 251 uses | Medium |
| Diamond | 1562 uses | Fast |
| Gold | 33 uses | Fastest |
Pickaxes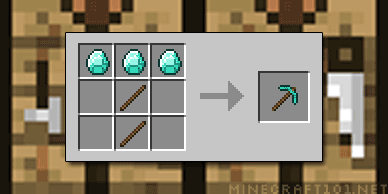 These are the tools that you will get the most use out of, and you'll probably want to be using diamond pickaxes when doing a lot of mining.
Note that some materials can only be mined with a pickaxe of a good enough quality:
| Material | Durability | Mining notes |
| --- | --- | --- |
| Wood | 60 uses | |
| Stone | 132 uses | Stone or better is needed to mine iron or lapis lazuli |
| Iron | 251 uses | Iron or diamond is needed to mine gold, diamond or redstone |
| Diamond | 1562 uses | Diamond is needed to mine obsidian. |
| Gold | 33 uses | More easily enchanted? |
The only sensible reason to make a gold pickaxe is if you are trying to enchant a pickaxe with silk touch.
Pickaxes are the best tool to mine all kinds of stone and ore, plus Netherrack, Glowstone and many other blocks.
The Right Tool for the Job
Pickaxes can also be used to do almost anything that a shovel or an axe will do (except make snowballs), however shovels work faster for digging dirt, grass, sand etc, and axes are much quicket at chopping most forms of wood.
Swords are the best implement for breaking minecarts, glass, beds, pistons, levers, buttons etc.
Shovels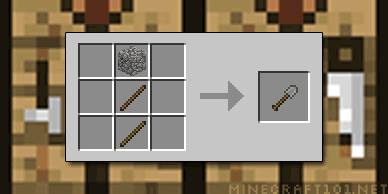 This is probably the second most-used tool; it's the best for shifting sand, gravel, dirt, clay and Soul Sand. It is also required to collect snowballs by digging snow.
Axes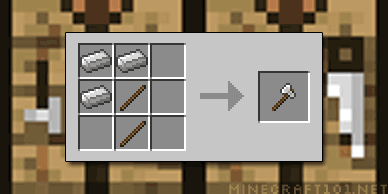 Axes are used for cutting down trees, and chopping up any other wooden items such as chests, fenceposts and wooden planks.
Hoes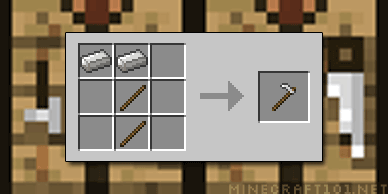 The hoe is a single-purpose tool, used for turning dirt into farmland. No other tool will do this.
Other Tools
Shears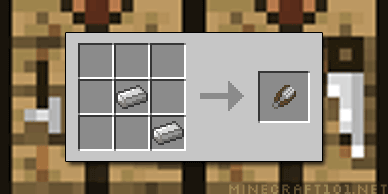 Shears are used to collect wool from sheep, leaf blocks from trees and string from cobwebs. They are also used to collect vines and tall grass.
The weird thing about shears is that you right-click to shear sheep, but left-click to collect other stuff.
Buckets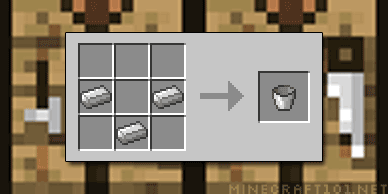 Used for collecting and placing water and lava, and for milking cows.
Flint and Steel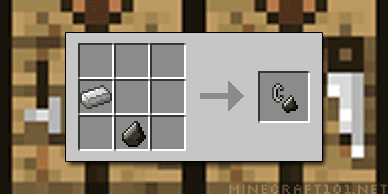 Used for setting stuff on fire. Flint and Steel can be used to set fire to many types of wooden blocks, or TNT. It is also used to activate a Nether Portal, and can be used as a weapon when fighting mobs.
Fishing Rods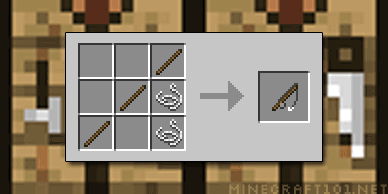 For catching fish.
Clocks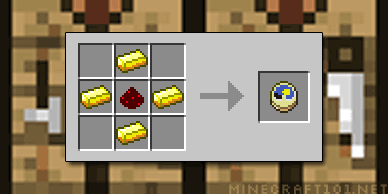 For telling the time. Clocks are useful to keep track of daylight while you're underground.
Compass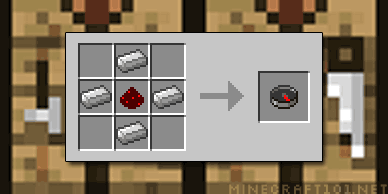 You'd think a compass would point North, but in Minecraft a compass points to the last bed you slept in.
Ladders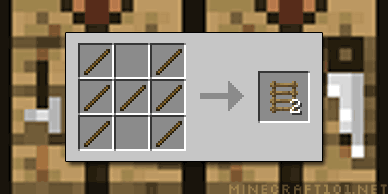 Place ladders on the side of blocks to climb up and down. Hold down Shift to stay still.