Enchanting in Minecraft
Enchanting is a way to make magic armor, weapons or tools. To enchant an item, you trade in experience levels. The more levels you trade in, the stronger the enchantment will be, but you won't know what you're getting until after it's done!
Enchanted items cannot be re-enchanted or repaired.
Items that can be enchanted are armour, swords, bows, pickaxes, shovels and axes. For a full list of possible enchantments, check out the wiki.
How to Enchant an Item
Get some experience points
Enchanting works by trading in experience levels (the green number above your toolbar) for enchantments. You get experience points (XP) in several ways:
Killing mobs
Most hostile mobs reward you with 5 XP, passive mobs, on average, 2. Venture into the Nether and fight Blazes for even more rewards. One way to get a vast amount of XP is to build an XP grinder.
Mining
You get XP from mining ores (coal, iron etc).
Smelting and cooking
You get XP when you empty your furnace after cooking or smelting something. Making large quantities of glass or smooth stone for your building projects is a great way to amass lots of XP. Bake wood into charcoal to fuel your furnaces, as that generates XP too.
Build an enchantment table
You will need obsidian, two diamonds and a book (made from paper, which is made from sugar cane, and leather, for which you will have to kill a cow).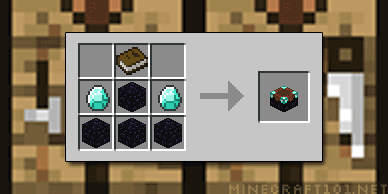 Enchant your item
Right click on the enchantment table to bring up the enchanting interface.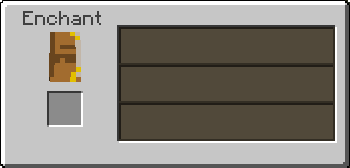 Place the item you wish into the slot, and three potential enchantments will be offered.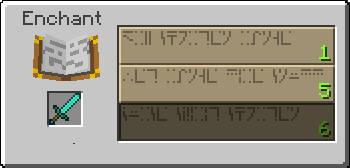 The number of levels the enchantment will cost is shown in green. Enchantments that you can afford will be highlighted, like the top two here. Enchantments that you cannot afford remain dim.
The mysterious characters that give the name of the enchantment can be decoded, but they are not helpful. You will not know what the enchantment is until you commit to it.
If you don't fancy any of the enchantments offered, you can pick up and replace your item. In the example above, I have 25 experience levels to spend, so I will keep trying until I am offered a Level 25 enchantment.
How to get higher level enchantments
A basic enchantment table will offer you enchantments up to Level 8. To get higher level enchantments, you must place bookshelves near the enchanting table. The bookshelves must go 2 blocks away from the table, on the same level or one higher. Maximum level (30) is achieved with 15 bookcases.
You may find it helpful to build enchanting tables with different numbers of bookshelves for different levels of enchanting.
Strategies for getting the enchantments you want
There is no way to choose which enchantment(s) you will get, but you can improve your chances of getting what you want by trading in the proper number of experience levels.
Stuart Persteiner has written an enchantment guide that explains everything in far more depth than belongs in any 101 guide. Below are some simplified rules of thumb for some of the more interesting enchantments. In these tables, "Level range" is a suggestion of how many levels to trade in, and "Chance" is an extremely rough estimate of your probability of getting the desired enchantment with each attempt.
Armor
The most likely enchantment is always "Protection", and the more levels you invest the more powerful it is likely to be.
Feather Fall
This enchantment reduces fall damage.
| Enchantment | Item | Level range | Chance |
| --- | --- | --- | --- |
| Feather Fall I | Iron Boots | 3–4 | 30% |
| Feather Fall I | Diamond Boots | 3–4 | 30% |
| Feather Fall II | Iron Boots | 9–13 | 35%+ |
| Feather Fall II | Diamond Boots | 9–13 | 35%+ |
| Feather Fall III | Iron Boots | 15–18 | 40%+ |
| Feather Fall III | Diamond Boots | 15–18 | 40%+ |
| Feather Fall IV | Iron Boots | 20+ | 55%+ |
| Feather Fall IV | Diamond Boots | 20+ | 55%+ |
Respiration
This enchantment increases the amount of time you can stay underwater.
| Enchantment | Item | Level range | Chance |
| --- | --- | --- | --- |
| Respiration I | Iron Helmet | 8–12 | 20% |
| Respiration I | Diamond Helmet | 8–12 | 20% |
| Respiration II | Iron Helmet | 19–22 | 30%+ |
| Respiration II | Diamond Helmet | 19–22 | 30%+ |
| Respiration III | Iron Helmet | 28–30 | 40% |
| Respiration III | Diamond Helmet | 28–30 | 40% |
Tools
Silk Touch
This enchantment causes blocks mined with the tool to drop copies of themselves, rather than what they normally drop. For instance, mining a diamond ore block with Silk touch will give you diamond ore, not diamonds.
With Silk Touch you can get normally unobtainable blocks such as grass, ice, mycelium or redstone ore, or pick up things that would normally be destroyed, such as bookshelves.
However, some other block such as monster spawners can not be obtained even with Silk Touch.
You have a reasonable chance of getting Silk Touch on iron or diamond tools by trading in 15 or more levels. By "reasonable" I mean 10% around level 15, improving to 15% at level 30.
It's slightly easier to get Silk Touch on a gold pickaxe, which may be a good idea if you have a surplus of gold rather than diamonds.